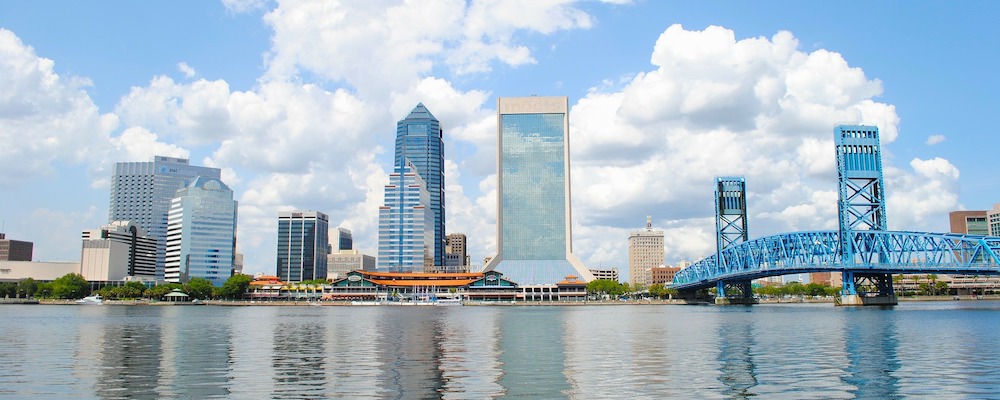 From fun in the sun to more family friendly-activities than we can count, and from top-notch music to art, theater, and much more, there's literally something for everyone in Jacksonville, Florida. The city of Jacksonville is considered to have the largest urban park system in the country, with more than 400 city parks, seven state parks and two national ones. In fact, the park system is four times the size of Manhattan!
So, whether you live in the Jacksonville area or are in town for a visit, here are twelve cool things to do. These destinations aren't listed in any special order (with the exception of the opening and closing ones)—and that's because each one is special.
#1 Timucuan Ecological and Historic Preserve
To start our list of things to do in Jacksonville, it makes sense to highlight the area's earliest known settlers.
Timucuan Indians lived where the ecological preserve exists today, until the tribe vanished around 1800. This preserve contains 46,000 acres of salt marshes and coastal dunes and, as you walk along the nature trails, you very well may spot "dolphins, shy manatees and some of the resident bird life."
Before the Spanish and French came to Florida, this tribe had at least 20 villages, built along rivers to have ready access to water and the abundant plant, fish, and animal life that also available by the waterways. At most, Timucuan likely numbered about 150,000 strong, growing maize and other vegetables, hunting and fishing. Early Europeans were in awe of their size and strength.
#2 Broadway Musicals
Yes, you can enjoy the best of Broadway musicals, right here in Northeast Florida! Thrasher-Horne Center presents stellar Broadway productions in our 1,700-seat theater that provides attendees with a top-class yet intimate viewing experience. Visit our website to view upcoming Orange Park Broadway shows.
Our Main Stage Theater provides two different levels of seating, with a stadium-style balcony with six private boxes. The two-story lobby contains concession areas, along with spacious bathroom facilities on both levels.
Here is our general seating arrangement. Note that precise seating can vary by the show being presented.
#3 Cummer Museum of Art & Gardens
The museum contains one of the finest Southeast art collections, with the permanent collection having more than 5,000 objects. The art is world class, with diverse special exhibits, ranging from pieces from 2100 B.C. to those of the 21st century.
This location also features 2.5 acres of unique early 20th century gardens, "featuring reflecting pools, fountains, arbors, antique ornaments, and sculptures." During your visit, you can see one of Jacksonville's oldest trees, the Cummer Oak, with a 150-foot-plus canopy.
The interactive education center in the museum is nationally recognized, providing learning enhancements for people of all ages. These programs are offered both in and out of the museum, giving visitors a chance to deepen their understanding of what's in the collection, providing cultural context.
#4 Amelia Island
Just 14 miles from downtown Jacksonville is Amelia Island, surrounded by 13 miles of marvelous beaches and pristine waters. You can take a video tour of the island to see what's available to enjoy, and browse through a full calendar of events.
If you enjoy biking, the island is chock full of paths and trails, with opportunities ranging from leisurely rides that are ideal for families and sightseers, to routes that even the most dedicated cyclists will appreciate. You can hike, golf, kayak, and more.
If history intrigues you, then Fort Clinch State Park with its Civil War fort will likely appeal to you. Looking for a bit of romance? Then consider a carriage ride for two around historic Fernandina Beach. As you can see, the island has something for everyone (and we've only provided a few of the highlights in this post!).
#5 Tree Hill Nature Center
"Tree Hill Nature Center promotes environmental stewardship to the community through quality, hands-on educational programs and low-cost access to natural areas."
This nature center contains more than 50 acres of preservation land, which includes seven walking trails. These trails are rated from easy to intermediate in difficulty, with the Sabal Palm Trail being handicap accessible.
The center features butterfly gardens, with a seasonal live butterfly exhibit, along with hummingbird gardens. There are guided trail tours, animal encounter events, and a combo animal encounter/guided trail option, with programs for people of all ages.
Tree Hill contains a wide range of exhibit animals and a hands-on museum for children that focuses on the state's natural history.
#6 Jacksonville Concerts
When you're in the mood for an evening of music, you can enjoy Jacksonville concerts that provide an up-close experience. And, if you want to plan a dinner and a show, many of the area restaurants provide Thrasher-Horne Center ticket holders with special discounts.
Here are just some of the examples of musical entertainment that we provide:
HippieFest

Vanilla Fudge
Badfinger featuring Joey Molland
Mitch Ryder & the Detroit Wheels
Rick Derringer

Eddie Money
Molly Hatchet
Voctave: An A Cappella Holiday
Yesterday & Today: The Interactive Beatles Experience
You can browse upcoming Jacksonville concerts on our website. Satellite bars may be available at some performances, and most shows have concessions on both levels of our two-story lobby.
#7 Museum of Science and History
This museum, known as MOSH, contains one of the largest single-lens planetariums in the entire country, the Bryan-Gooding Planetarium. A visit to MOSH will give the whole family a chance to learn about deep space exploration, taught by knowledgeable educators who focus on bringing the night sky to life for people of all ages. Plus, there are cosmic concerts that combine the best of sky exploration with entertaining music.
Besides the planetarium, MOSH contains plenty of interactive exhibits, including "Health In Motion"—which highlights the body's many systems and how lifestyle and the environment impacts health. There's a life-sized sculpture of a whale and an intertidal touch tank; exhibits that allow visitors to generate their own electricity; a naturalist center; an exhibit that shares 12,000 years of Jacksonville history; a space science gallery; and much more. There's also a World War II-era mural with historic scenes.
#8 Museum of Contemporary Art
Here's another acronym: MOCA. This art museum is located in downtown Jacksonville and contains artwork from contemporary artists such as Alex Katz, Philip Pearlstein, and Robert Longo—including paintings, photography, printmaking, and sculpture. There are also temporary exhibits that explore unique artistic styles, plus educational programs for adults and children alike. One example of cutting-edge programming is Art Aviators, where children with autism spectrum disorders can express themselves with creative forms of artistic activities.
Since 1999, MOCA has been housed in a historic building that has been restored to its original Art Deco style. The building also contains a theater/auditorium, a cafe, and a museum shop.
#9 Kathryn Abbey Hanna Park
This park is exactly the place to be when the surf is up, located just 17 miles east of Jacksonville's downtown. There, you can revel in a mile and a half of soft, beautiful sand, and enjoy some of the best waves around. There's also a seasonal splash park for children under four feet. There's plenty of activities for family fun such as hiking trails, biking trails, and a lake for fishing. You can camp in the Kathryn Abbey Hanna Park or just enjoy a picnic on a sunny afternoon.
#10 Stand Up Comedy
Do you like to laugh? If so, then we encourage you to check out the upcoming stand-up comedy events at Thrasher-Horne Center. The country's top comedians like to include our center on their circuit. These shows are highly entertaining and, since increasing numbers of experts are saying that a belly laugh is great for your health, then these stand up comedy routines are good for you, too!
#11 Shop Till You Drop
St. Johns Town Center contains about 150 stores, from larger chains to unique shops with more local merchandise. When you need to take a break, there are plenty of dining options to choose from, and you can also enjoy a sunshine stop at the Park Green turtle pond. Other interesting features include a life-sized checkers board and dog park.
#12 Friendship Fountain
Because Jacksonville is such a friendly place, we decided to end with a nod to friendship.
Located in St. Johns River Park, this fountain can spray 17,000 gallons of water—a minute, that is. It can spray up to 120 feet in the air and, when the park opened in 1965, it was then the largest and tallest fountain in the world. At night, colored lights add to the dazzle, making the Friendship Foundation a popular site to visit by residents and tourists alike. Plus, from the park, you get a wonderful view of the downtown area.