Hard as it may seem, graduation ceremonies are just a few months away! To help plan a celebration that your grad and guests alike will long remember, this post will share planning tips, unique ideas for graduation parties, and what to avoid doing, along with information about flexible party venue spaces at the Thrasher-Horne Center. In fact, our main stage venue is perfect for the graduation ceremony itself!
Graduation Party Planning Tips: Initial Steps
First, how many people do you intend to invite? The answer to this question will be at the foundation of what you plan, and there are two broad ways to go about estimating that number. One way is to ask your graduate what he or she wants. This will especially help if, say, you're thinking about a big bash and your son or daughter wants something a bit smaller—or vice versa.
Another way to estimate the number of potential guests is to make a list of those whom you simply have to invite, such as close family members, your child's best friends from school, and so forth, and then a list of those you'd like to invite, if room permits. Then, if you discover that your graduating student wants a memorable celebration surrounded by as many friends and family as possible, you may—as just one example—find that your preliminary invitation list should be expanded, perhaps to additional neighbors, teachers, and more.
Through a combination of those two methods, you should now have a general sense of how many people you want to invite. With that as context, it makes sense to then:
Set a budget, with important items including:

Party venue
Food/drink
Entertainment
Invitations (plus postage, if mailing them)
Decorations

Pick a date and time
Secure the venue
If you accomplish those three items on your checklist, then you can take a brief sigh of relief before continuing your planning. In general, the best months for graduation parties are June and July (that's because many students often leave for college in August) with these celebrations often lasting three or four hours. Some people like to hold their parties shortly after the graduation ceremony, while others like to have a little time between these two events.
Graduation Party Planning Tips: Next Steps
After you've got the basics of the party planning done and secured the most ideal venue for your graduation party, it's now important to get on the calendars of the people you want to invite, to help prevent them from committing to another event on that day. So, sending out invitations is a natural next step.
You can buy your invitations from a store or create your own design through sites such as Shutterfly, Zazzle, Evite, Minted, and more. You may decide to have the invitations printed and then snail mail them—or you could send them by email. Think about the people you're inviting and decide what would be more convenient for them, and what method would be more likely to receive a response.
In the invitations, it can help to be clear about whether this is a party or an open house, and whether or not you would like them to RSVP; send regrets only; or just show up. A graduation party is one where people generally attend during the entire time listed on the invitation (say, from 2 to 5 p.m.) while an open house is one where people come and go during that time frame. Sometimes, having an open house makes it easier for guests to attend multiple events on the same day.
One key factor in deciding whether you'll host a party or open house is how you'll serve the food. If you'll have a sit-down meal, then this definitely falls into the party category, one where you'll want to know how many people will be attending. If instead, you'll have buffet-style food available through the entire event, then this is more like an open house.
If you want a sit-down meal, will it be catered? Who will cater it? If it's more casual, will you have elegant sandwiches and fruit or a taco bar? And, what about the graduation cake? What flavor? How will it be decorated? In the colors of your child's high school? (Note that there are some pretty amazing graduation cake toppers available!) What about punch in clear bowls in a color that coordinates with your theme?
Will there be entertainment? Perhaps you'll want to have a live band play music for people to enjoy and/or to dance to. Or, maybe a DJ can take requests. In either case, if you have guests who like to dance, make sure adequate space is available for dancing at the venue.
Will you, in general, want the decor to dovetail with the high school's colors? Or the college where your child will be attending? What about picture boards that share the highlights of your graduate's life? Videos of your child that run throughout the party? Fresh flowers in your color scheme? A guest book for people to sign and share favorite memories? Or, if your child will be traveling, a globe for people to sign?
No matter what you're envisioning, there are endless amounts of graduation party decoration ideas on Pinterest and other places online.
Unique Graduation Party Ideas
Here are just a couple of them.
First, if your child has had a long-time best friend, you could consider having a joint party. Or maybe there is more than one graduate in your family, and you could plan a celebration together. This would allow you to increase your budget and truly have a party to remember—and this party idea may be especially practical if invitation lists for each of the graduates would have some cross-over.
Plus, as a fun way to help preserve your memories, what about having a photo booth? Once again, you can find plenty of inspiration on Pinterest. You could also designate a certain place online for everyone to upload the photos. Here are some free image hosting sites that will allow everyone from the party, along with people who couldn't attend, to enjoy photos from the celebration.
You can create a wooden board with hooks on it, titled "Keys to Success." Provide pieces of cardboard with string loops at one end and ask partygoers to provide your graduate with a key piece of advice about living a successful life, and then hang that on the board.
What Not to Do
If you avoid a few things, then the entire experience will likely be much more enjoyable for you, as well as for your child and party attendees. For example:
Don't leave your planning to the last minute. Not only will that make it harder for you to secure the party venue, caterer, band and so forth, but it will almost certainly add to your stress levels.
Don't send invitations out too late. When that happens, especially during the hectic graduation season, friends and family members may commit to another event that conflicts with yours. Although that's never 100% avoidable, spreading the word earlier rather than later can go a long way.
Don't forget to take lots of pictures of the big day. These can be photos to treasure for a lifetime.
When the day finally arrives, don't forget to have fun! This is a once-in-a-lifetime event, one to be enjoyed.
Flexible & Affordable Graduation Party Venue at Thrasher-Horne Center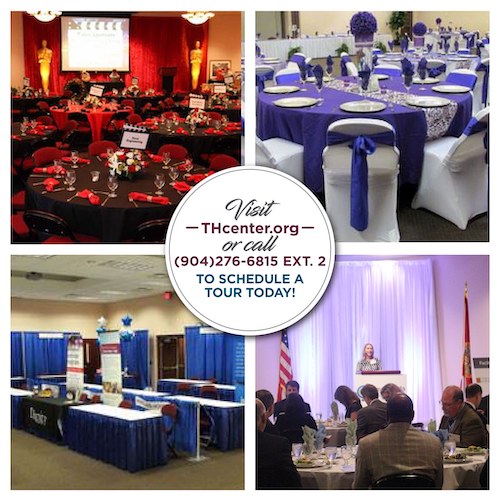 You can host your graduation party at one of Northeast Florida's most unique party venues: Thrasher-Horne Center. Located on the scenic campus of St. Johns River State College, our versatile banquet rooms are ideal for intimate gatherings and large parties alike—and our professional on-site staff will ensure that you'll have a memorable event, also freeing you up to spend time with friends and family.
Multi-purpose rooms allow for numerous options for seating arrangements and our 6,260+ square foot space has move-able partitions, which allows us to help bring your vision for your graduation party to life. Rental fees include customized furniture setup and breakdown, your choice of table sizes and shapes, and cushioned chairs for guest comfort. Available technology includes sound, lighting, a/v carts, wireless network access, screens, projectors, and more.
You can choose to hire one of the local caterers we recommend or bring your own. As for music, we have rental equipment available including a baby grand piano and an upright piano, plus a dance floor.
Here's another benefit: convenience. The Thrasher-Horne Center is easily accessible with ample free parking, and on-site security. We're just a short drive from Jacksonville, St. Augustine, and surrounding areas.
Graduation season is right around the corner! If you'd like to tour our facilities, you can call 904-276-6815, extension 2, on weekdays between 8:00 a.m. and 5:00 p.m, or contact us online. We look forward to discussing your needs and working with you! Let's book your date.