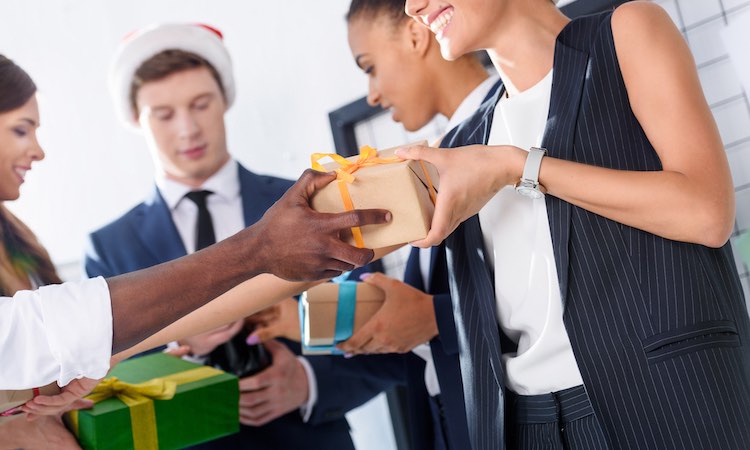 A holiday party allows people at your company to kick back and simply enjoy one another's company as the year edges to a close. When spouses are also invited, it may be the only time all year that employees can also socialize with their coworkers' partners.
To make the planning process go as smoothly as possible for those in charge of organizing the party, here are seven helpful tips.
#1 Proactively Form a Planning Committee
If possible, have people from different departments and/or job roles on your planning committee so you'll get a variety of perspectives. Because corporate party venues and vendors have calendars that fill up more quickly during the holiday season, it can make sense to meet a few months (or more) ahead of time to secure your choices. This is especially true if you have a specific date already in mind.
As soon as it's doable:
Pick a preferred date for the party
Also choose a couple of alternative dates
Tour event venues and get general pricing/options
Depending upon the size of your planning committee, you may decide to assign high-level roles for each person at this point.
#2 Determine Your Budget
Your company may provide the planning committee with a hard-and-fast dollar amount that can be spent or a range may be provided. When possible, it's better to have one that contains a bit of wiggle room. Other times, employees will buy tickets to the event, so it can help to estimate how many attendees are likely to attend and determine what the ticket price would need to be to cover your projected costs.
When estimating costs, brainstorm a list of items that your budget must cover, such as the venue, food and drink, entertainment, decorating, games/other activities, and so forth. Build in a cushion for unexpected expenses or when a line item costs more than anticipated.
#3 Choose Your Corporate Party Venue
Because holiday dates can fill up fast, try to secure the event venue as soon as possible. By doing so, you're also confirming the date and time of the event, which allows attendees to save the date on their calendars before they get other holiday invites. Confirming the venue goes a long way in preventing scheduling conflicts so as many people as possible can attend your company get-together.
When deciding upon a venue, here are just some issues to consider:
If the venue has a room that's right sized for your event
Whether it's conveniently located
If enough parking is available, and if it's free
What's included in the event rental fee
If there is ample space for a DJ or band and, if desired, a dancing floor
If you can use your own caterer and/or if the center offers recommendations
Which furnishings are included in the rental fee
What optional items are available for event rental purposes
Once you find the perfect party venue that suits your needs and your budget, then you can check off a big item on your party planning list.
#4 Pick Your Caterer and Menu
Whether you'll have an elegant sit-down dinner or a more informal buffet, choosing a menu that will please guests is a key element of your corporate party's success. If you're going to have a party theme—whether that's My Favorite Things, Charlie Brown's Christmas, Winter Wonderland, or something else entirely—brainstorm ways that your food and drink menu can complement and enrich that theme. Desserts, as just one example, can be tailored to holiday themes in eye-catching and flavorful ways.
Talk to your venue of choice about the best way to set up tables and chairs, food tables and more, for optimal flow during meal time—and, really, throughout the party.
#5 Brainstorm Decorating Ideas
Ask your venue of choice what the location will look like during the holiday season. They might, for example, have beautifully decorated Christmas trees on display and/or twinkling white lights strung up to add holiday flair. This may mean that you'll need to decorate less than planned, freeing up your budget for other areas. Ask your contact at your venue when you can come in to decorate.
#6 Secure Quality Entertainment
From an orchestra or band to a DJ, in demand professionals often fill up their holiday calendars pretty quickly. When choosing, think about what kind of music you'll want played. This could be a mixture of holiday music with today's popular hits. Or, it could be a nostalgic blend from yesteryear. Talk to your venue about where the entertainment crew will be placed, where people can dance, and so forth.
#7 Don't Forget the Miscellaneous
If you'll be mailing print invitations or putting them in company mail slots, be sure to include that in your budget. Or, there are plenty of sites where you can create attractive email invitations. Include an RSVP date so that you can work with the venue for seating and the caterer for food portions.
If you'll be having games or activities, perhaps a holiday photo booth, be sure to include those costs as well as any additional rental items needed for the activities. In addition to games and activities, don't forget party favors. Keepsake items that attendees are able to bring home after the party are always popular. This can include personalized ornaments, wine glasses, or candle holders to name a few.

Thrasher-Horne Center for Your Corporate Party Venue
The Thrasher-Horne Center is the ideal place to hold company parties during the holiday season, and throughout the year. Conveniently located with plenty of free parking, we customize affordable event rental rooms for your needs, whether intimate or large. We can offer time-tested recommendations for caterers or you can select your own; we have an outstanding sound system and adjustable lighting options; and can also provide the extras you want and need for a company party to remember.
To discuss your needs for event rentals, please contact us online or call 904-276-6815, ext. 2. We look forward to hearing from and serving you!