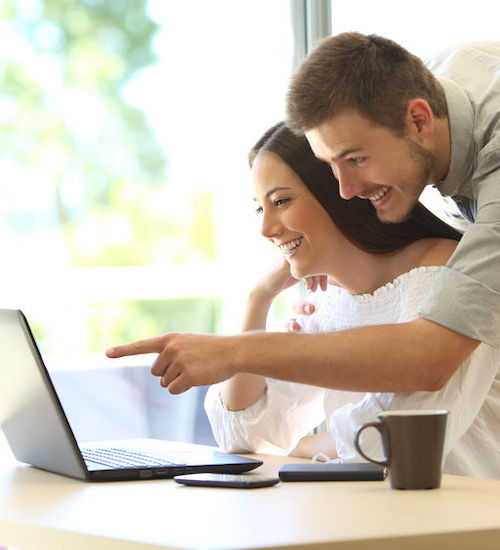 When you first began daydreaming about your special day, you might have envisioned a stunning long-trained dress, or imagined a romantic dance with your lifetime partner.
When you actually start planning your wedding and reception, it will probably begin to include more practical details that need to be taken care of to create the wedding of your dreams. And, one practical detail that will help you to take care of numerous other practical details is a wedding website. This site will allow you and your partner to share wedding and reception details with friends and family, and then serve as a wonderful place for memories.
These websites can range from fairly simple ones where you upload a photo and include relevant who/what/when/where information to much more elaborate ones with beautiful designs and numerous interactive features. Not surprisingly, costs also range widely, from free to the-sky's-the-limit. Fortunately, most of these website-builder companies have made the process simple, even if you're not a tech whiz.
To help you choose the best wedding website option, we refer you to this article. It can also help to talk to friends about what they did and what they thought about the experience.
Practical ways in which creating a website for your wedding can help include the following.
Gift Registries
People want to give brides and grooms what they want, but it can sometimes be awkward to share gift registry information. Listing it on your wedding invitation would surely upset Aunt Maude, and it isn't practical to individually provide the info with everyone. So, put it on your wedding website!
Online Reservations & RSVPs
One of the more stressful aspects of wedding planning is determining how many people will be at the reception by keeping track of RSVPs and regrets. With many of the website services for weddings, your guests can RSVP online, which helps to save time, money, and stress. You can use the site to monitor the numbers and to see who hasn't yet responded—and this eco-friendly system doesn't require paper RSVPs or postage stamps.
Interactive Guestbook
This allows site visitors to send you congrats and best wishes, including friends from far-flung places around the globe who may or may not be able to attend your special event. If this feature appeals to you, make sure you choose a site builder with this capability.
Directions for Guests
You can upload maps and links to online services that offer directions to help guests get to locations of your wedding shower; wedding venue; and, if different from that venue, your reception hall. If you're getting married in your hometown, this will help out-of-town guests. If you're having a destination wedding, it can help virtually everyone involved.
Travel Information for Guests
If you've got out-of-towners coming to your wedding, you might want to offer information about lodging, rental cars, local restaurants of choice, and so forth on the site. And, again, if you're having a destination wedding, this will be valuable information for almost everyone.
Wedding Websites Can Add to the Romance!
Reasons listed above are pretty practical. But, having your own website can also create an opportunity to share your unique romantic story, perhaps about how the two of you met, when you first realized you were falling in love, and when and how your partner proposed.
You can upload pictures, including what each of you looked like as a child, and the earliest photo of the two of you together. You can include pictures from your showers and engagement party, photos of everyone who will be in your wedding party, and so much more. This is also an ideal place to share why you chose each member of your wedding party, and what each of them means to you.
Afterwards, you and your guests can upload photos from your wedding and reception. There are probably many wonderful moments your guests captured on film that you were not aware of from the hustle and bustle of the day. This also allows those who could not attend your wedding to browse through photos of your magical day, or those that did attend relive the excitement.
Upgrades
As you choose your website builder, and as you decide which package to buy or features to include, you'll probably be asked if you'd like to upgrade to have even more bells and whistles on your site. If they will add value to your experience, you may well decide to go for it, but it's too easy to buy what you don't need or won't use. Again, it may help to talk to friends about which features were really important to them and consider that feedback as you make your own decisions.
Wedding Venue and Reception Hall: Choose Thrasher-Horne Center
As you're planning your big day, consider how we have five suites that can be configured to bring your vision of a perfect day to life. This is ideal for intimate ceremonies with close friends and families and for lavish events in our grand room. Our staff and rental coordinator go above and beyond, exceeding expectations for every special event we host. Here's more information about our wedding venue and reception hall options.