Reunions are often held in summer and, although that season may feel far away, March is the ideal time to reserve a venue for a class reunion, family reunion or other type of get-together. That's because people will be planning summertime graduation parties, baby showers, wedding showers, weddings and receptions, corporate events and more—and, many times, they'll be looking at the same venues you are.
If you're planning a reunion, the time to investigate and book your venue of choice is now. This post will help you to make the right choice.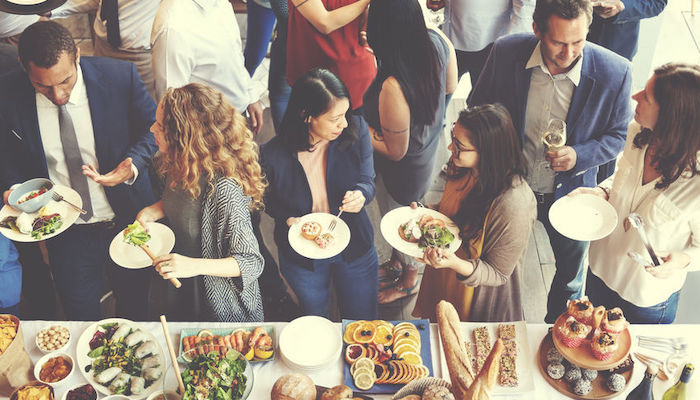 What to Look for in a Reunion Venue
You'll want a reunion venue that's conveniently located and that offers ample parking. Choose a venue that's roomy enough to easily accommodate the number of guests you expect and that can provide the ambience you envision for your event. Also, consider whether the venue's hours of operation work for your reunion and whether it has an on-site event staff that can help you plan and execute your event. If you anticipate attendance by guests who may need accessible features, be sure to ask what the venue has to offer them.
Preparing for a Tour
It typically makes sense to designate members of your reunion committee to visit potential venues. It's also important to schedule these tours early enough, so that when you find a venue that's exactly right for your needs, it's available on one of the dates that fit your schedule.
In preparation for your tour, make sure you've got a camera or phone that takes quality pictures so you can share what you see with other people. Take photos of the interior and exterior from various angles, both further away and closer up. It can be helpful to take the same types of photos at each place for easy comparison.
Take notes of what you see and learn, including how comfortable you felt with the venue's staff, how welcoming they were, and how effectively they communicated with you. Consider scheduling each tour at the same time as your planned event. If you have an evening event, for example, this would allow you to see how well lit the parking area is, and how easy it is to find the appropriate entrance.
Questions to Ask When Touring
When you tour a reunion venue, ask whether you'd have a specific person to work with; if so, ask if you can meet this person. Determine how much assistance is available at a particular venue. Also find out the number of guests that a venue can accommodate, as well as how many rooms are available and so forth. What hours are available for your reunion event?
Additional questions to ask include:
How many parking spaces are available? Are they free? How conveniently are they located?
What's included in the rental fee?

What must be paid upfront?
What is nonrefundable?
What is your cancellation policy?
Does this include gratuities?
What about overtime charges?
What fees am I not thinking about?

Can I bring in outside vendors, such as caterers?

What limitations exist on vendors?
Do you have recommendations for caterers?
What is your alcohol policy?
Are there any vendors that our reunion committee is required to use?

Are furnishings and equipment available and, if so, are they included in the rental fee?

Table, chairs and other furniture
Table linens
Equipment, such as audiovisual and lighting

What staff services are available?

Event planning
Setup services
Teardown and cleanup services
Security
What else?

Does your facility offer WiFi? Is it free?
Do you require insurance? If so, what are the specifics?
How early can we begin setup for our reunion event?
What options do we have for decorating? When can we decorate? Are there limitations on what we can do?
What about setup for a band or orchestra? What's available and what do we need to provide? What's the quality of acoustics?
What accommodations do you provide for guests with special accessibility requirements?
What else should I ask you that I haven't thought of? Whom should I call if I remember other things to ask?
Planning Your Reunion
At the Thrasher-Horne Center, we offer resources to help you to plan your reunion, including this two-part blog post on reunion planning tips. The blogs include guidance on:
setting the date
determining your budget
getting help for the reunion event
setting up an online reunion headquarters on a platform such as Facebook, a WordPress blog, Squarespace or Wix
venue setup
entertainment
event schedule
photographer/videographer
displays and signs
registration process and materials
extra activities
communications with committee members and attendees
As part of your planning, you'll want to address the big issues first, such as when and where the reunion event will be held, plus your overall budget. As you move along in planning, you can start addressing details such as name tags, goody bags, drink tickets, printed programs, and so forth.
Reunions at the Thrasher-Horne Conference Center
You can ensure a memorable reunion for your guests, when renting space at our venue. The conference center has more than 6,135 square feet, including five banquet rooms. Our facilities are modern, located on St. Johns River State College's peaceful campus, and our multipurpose suites and special events rooms can be configured in flexible ways to accommodate your unique setup needs. This includes seating options and other customizable choices for furnishings. Our grand banquet room, with it's beautiful chandeliers, will provide an especially sophisticated venue for your reunion.
Other benefits of choosing our full-service center include:
ample free parking
easy access to the Center
free wireless network access
adjustable lighting, independent in each room
Equipment available for rent includes:
White linens
Pipe & drape
Up-lights
Dance floor
A/V carts
Podiums
Microphones
and much more
For catering, you can choose your own, or work with one of our recommended food providers, for everything from heavy hor d'oeuvres and buffets, to plated dinners. We are located on the beautiful campus of St. Johns River State College in Orange Park, conveniently located near a range of accommodations for out-of-town guests. We're also easily accessible from the Jacksonville International Airport, and a short drive from wherever people want to visit in Jacksonville or St. Augustine. This means that you can easily schedule daytime events, for example, over your reunion weekend, with a wealth of options available in this part of Florida.
Our conference center is available for rentals seven days a week from 7:30 a.m. to 11:30 p.m., and you can find information about how to rent our venue for your reunion event here. You can contact us by calling 904-276-6815, ext. 2 to schedule a tour, or to reserve your space.