If you're looking for an affordable event venue in the Jacksonville area, the Thrasher-Horne Center has several options to choose from. We have the perfect space for your event or gathering, from wedding ceremonies and receptions to conferences and business meetings. We also have performance space areas for even larger events.
If you know what you need and want to book a date with our Conference Center, then please contact our Rental Coordinator at 904-276-6815 extension 2, and to rent our Main Stage and Performing spaces contact our Production and Events Manager at 904-276-6803.

Our expansive Main Stage Theatre is a popular venue for large-scale productions. It's where audiences and guests enjoy everything from Broadway shows to large private events, and it can accommodate seating for more than 1,700. With two levels of seating, including a stadium-style balcony, and a 57' x 48' stage, the Main Stage Theatre is ideal for these events and more:
Large-scale performances and productions: Every seat is the best in the house in our Main Stage Theatre. Stage your next production in a modern venue that provides full scene and costume shops, hydraulic orchestra pit, and space for 80 performers in our generous dressing rooms.
Graduation and award ceremonies: The Main Stage Theatre can accommodate large audiences for your graduation and award ceremonies, while the adjacent Conference Center is the perfect space for catered dinners and receptions afterward.
Recitals and competitions: Put your cheer and dance competitors, recital dancers, band or chorus in a professional setting with state-of-the-art sound and lighting. The Main Stage Theatre includes a full backstage dance studio for warming up and green room areas.
Corporate events: The Main Stage Theatre is popular with local government agencies, non-profit organizations and business groups for their events and parties.

Bring your group of up to 220 to your event in the Studio Theatre. Customize your event with reconfigurable lighting, seating and stage location. We have chorus dressing rooms available for women and men, each of which has 25 mirrored stations with makeup lights, plus showers and sinks. Additional dressing rooms are available to accommodate 20 extra performers, and we have a green room with an equipped kitchen. The Studio Theatre also has a dedicated catwalk-level lighting and sound booth.
This intimate black box environment provides the opportunity for performers and guests to connect, and an unequaled experience for attendees at a variety of events, such as:
Small productions: Bring audiences and performers closer for one-man shows, artist showcases, cabarets, small-cast productions and more.
Music performances: Perfect for smaller music performances, the Studio Theatre offers expert lighting and sound. Flexible features include your choice of a seated or standing audience, assigned seats or general admission, or a combination. Professional concessions are available as are merchandise table options.
Parties and celebrations: Host your private family or personal gathering at our Studio Theatre for an event your guests won't soon forget. We have bartenders and professional servers available for your event, and a full warming kitchen for your own caterer or one of our recommended catering services.
Showcases: All types of musicians and artists have taken advantage of the Studio Theatre's intimate setting for orchestral, vocal and dance performances. The Studio is also ideal for school recitals and ballroom dance groups.

If you want maximum flexibility to create a one-of-a-kind event, the conference center rooms at the Thrasher-Horne Center can provide it. With a total of 6,135 square feet comprised of five banquet rooms, you can take advantage of movable wall partitions to configure four of the rooms to suit your needs.
Your rental of our conference center rooms includes a range of seating options, plenty of free parking, furniture setup and breakdown, plus adjustable sound, lighting, and audiovisual systems. You may bring your own caterer for your event or consult with our staff to choose one from our list of recommended caterers. You'll also have free wireless network access, a multimedia presentation lectern, and a warm-up kitchen. Our conference center rooms are available for rent seven days a week, with rental hours from 7:30 a.m. to 11:30 p.m. depending upon scheduled events.
Perfect for an intimate gathering or hundreds of guests, our conference center rooms are the ideal setting for these types of events and more:
Weddings and receptions: Tell us about your vision and let us make it a reality with affordable five-star service, a grand room that can accommodate 250 guests for wedding receptions, and our on-site professional staff. Hundreds of couples have chosen the Thrasher-Horne Center to celebrate the beginning of their lives together, making memories that will last a lifetime for them and their guests. We also have beautiful backdrops for your wedding photos, including a landscaped waterfall and grand staircase.
Bridal and baby showers: Any of our conference center rooms can be set up to entertain your shower guests in style. Whether you're inviting just a few guests or are planning a large event, we'll help you create a memorable day.
Parties and celebrations: The movable partitions in our conference center rooms allow you to have the environment you want for your party or banquet. You'll have your choice of table sizes and shapes, technology such as sound and lighting, and options to rent a piano or dance floor. Our staff is available to help you plan the perfect holiday party, family or class reunion, brunch or lunch, award banquet and more.
Meetings: Have your corporate gathering at the Thrasher-Horne Center where you'll have your choice of format for large meetings in our grand room, breakout rooms for training or workshops, wireless network access and more.
Expos and conventions: Thousands of square feet can be configured for any type of meeting or fundraising event or an expo for a large number of exhibits and attendees. The Thrasher-Horne Center's convention facility can be rented for a half- or full-day.

Looking for a unique space for your event? Our gallery spaces are available to rent for your gathering. The 1,200-square-foot Lee Adams Gallery and 950-square-foot Jack Mitchell Gallery are perfect for smaller receptions, cocktail hours or other events. Our gallery spaces have hosted wine tastings, meditation classes, reunions, and even wedding ceremonies. Both of these spaces have audio connections and piped-in music availability.
Additional event venue features
The Thrasher-Horne Center is situated on the St. Johns River State College campus in Orange Park, making it a convenient central location for your guests from Jacksonville, St. Augustine and the surrounding area. Our venue is just half an hour from downtown Jacksonville, about 45 minutes from the beaches of Jacksonville, and about an hour from St. Augustine. If your guests will be coming from out of state, the Jacksonville International Airport is an easy drive. When you need accommodations for guests who are staying overnight, several Fleming Island and Orange Park hotels are close by with choices including brand-name hotels, an upscale resort adjacent to the St. Johns River, and many more.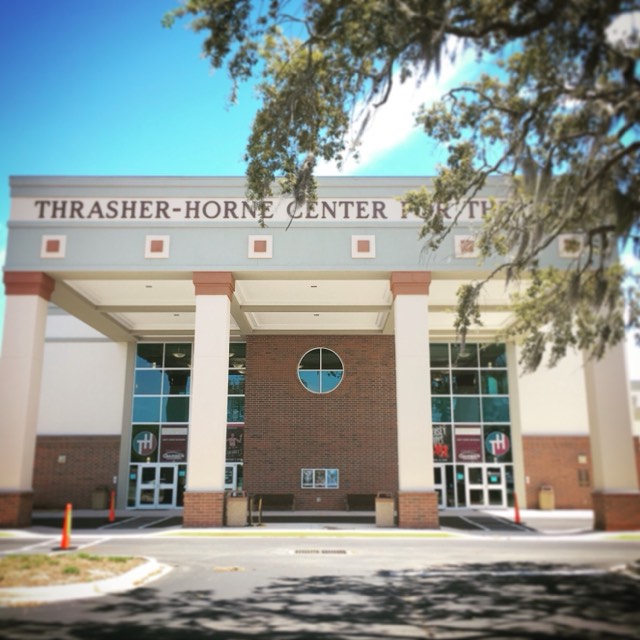 Hosting your event at the Center has these additional advantages:
Available on-site security
Plenty of free parking for your guests
Affordable event rental rates that include furnishing setup and breakdown
The option to work with one of our recommended caterers or use your own
Accessible features such as curbside drop-off, an elevator to the upper-level lobby, chairs with removable arms in our Main Stage
Theatre, and more
Multiple spaces available for rent to accommodate various functions at your event, such as workshops in breakout rooms
Discounts available for nonprofit organizations
Alcohol may be served at your event with the appropriate liquor license and liquor liability insurance
In addition, our experienced, on-staff event planners are at your service. We'll meet with you to discuss your needs and even share examples of all of the ways each of our event spaces can be configured to your specifications. We're also happy to give you a tour of our facility.
Book Your Event Today
Whether you want to reserve your event space now, would like to schedule a tour of all of our event venues, or just have questions about event rentals at the Thrasher-Horne Center, we're here to help!
Here's how you can reach us:
General contact information:

Call 904-276-6815, extension 2

Conference Center:

Call Director Bob Olson at 904-276-6815, extension 8
Rental Coordinator Ellen Hare at 904-276-6815, extension 2.
Plenty of Planning Resources
We go beyond being an event center, also being an information center to help you plan important events. Here is a sampling of posts on our site that can help.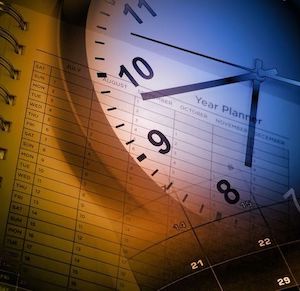 Time Management Tips
This event planning time management post can help you to create a realistic planning schedule, provide ways to protect your planning time, and more. When you pick a date for an event, it may seem far off—and then time can really fly by. So, it's never too early to begin your event planning or to find efficient ways to manage your time.
Tips For Planning an Catered Event Menu
Whether you're planning a small business or social gathering or a large event that will bring in quite the crowd, one thing near the top of your event planning priorities is planning a menu that will be sure to please everyone. Bringing in a caterer versus you or family and friends preparing the food certainly has its benefits. If you decide to bring in a professional, here are a few things to keep in mind:
Set Your Catering Budget

All events have a budget that has to be kept, the food offered at the event is only a portion of that allotted budget.

Match the Menu to the Event

Consider the type of event you are planning. A grand formal wedding reception will likely offer a sit-down multi-course dinner while a business gathering may offer a selection of finger foods to encourage mingling.

Consider Your Venue

Factor in the capabilities of your venue's kitchen when you're deciding on a menu, some facilities may have little to no food preparation areas while others may have a fully-operational kitchen.
Working with Event Planners
Attending events and shows can be quite enjoyable. So can planning the events, but it can also take plenty of time and energy to coordinate a get-together. That's why some people decide to hire an event planner.
If that's the route you decide to take—or are currently thinking about—there can be numerous benefits, including freed up time on your part and an overall maximized budget. Professional planners know how to prioritize so you get the most out of your event planning dollars. They also know common pitfalls to avoid, including budgetary surprises that nobody wants to encounter. Plus, professional planners have connections with vendors, possess negotiating expertise, and more.
If you decide to work with one, here are a few tips:
Clearly communicate what you need and when. This can include the types of food you want, the room set up needed, how casual or formal you want the event to be, and so forth.
Carefully listen to advice from your planner. He or she may tell you, for example, that a certain event venue you're considering won't have the flexibility for the set up you need or a sound system with the quality you want. Although each decision is ultimately yours, the expertise of a good event planner can be invaluable.
Be flexible. You may be planning a wedding reception and already know the perfect band. But, perhaps the planner tells you that the event center you have in mind doesn't have room for the dance floor you're envisioning. Or, maybe the planner knows of a caterer who can provide the quality you want at a better price than the one you've been thinking about using.
These are just some of the ways in which a professional planner can help you with your event.
When you book a date at the Thrasher Horne event center, our on-site rental coordinator can work with your professional planner—or with you directly. We're here to help you enjoy an experience that's uniquely tailored for you and your guests.
Choosing the Right Venue
If you're deciding which event venue would be best for your event, it makes sense to ask questions about those venues. We've included a list of them in our post about class reunion events (yet another type of event we host!.)
Here are several questions to get your started:
How many parking spaces are available? Are they free? How conveniently are they located?
What's included in the rental fee?

What must be paid upfront?
What is nonrefundable?
What is your cancellation policy?
Does this include gratuities?
What about overtime charges?
What fees am I not thinking about?

Are furnishings and equipment available and, if so, are they included in the event rental fee?

Table, chairs and other furniture
Table linens
Equipment, such as audiovisual and lighting
Thrasher-Horne Center has a wide range of quality event rental equipment for events held at our center, and we'd be happy to discuss your unique rental needs with you.
We look forward to serving you at the Thrasher-Horne Center!