Yes, you can create a beautiful wedding without putting yourself under financial stress! Here are tips and ideas for planning a wedding on a budget while still having the day you envision.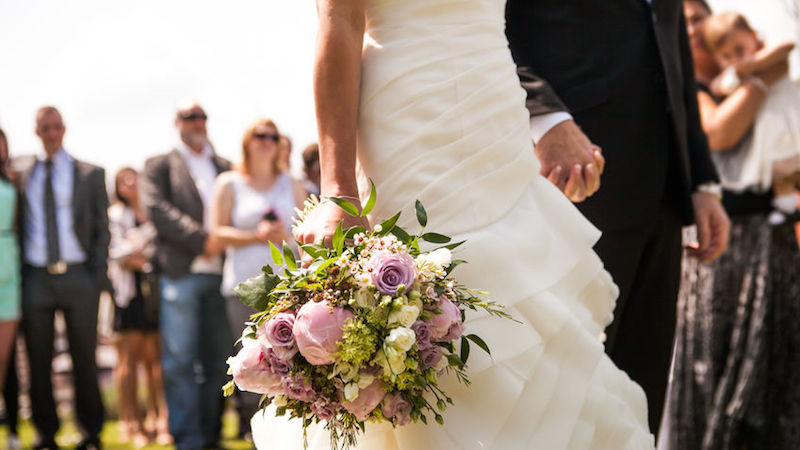 Determine your priorities.
Planning a wedding can be a bit like planning a kitchen remodeling job: Start by sorting out your must-haves and nice-to-haves, then focus on the things that give you more bang for your buck. Just as show-stopping countertops might be more important than the flooring to a homeowner remodeling her kitchen, determine what's most important to you and your partner.

This article on the Knot website has a cheat sheet to help you figure out where to save or splurge on your wedding.
Set your budget.
With your list of priorities in mind, determine the total amount of money you have to spend and where it will come from. If it's from your or your partner's savings, make sure you conserve enough money for your emergency fund. If you expect a parent or other family to contribute, ask him or her to confirm that and find out how much that contribution will be. It's essential to know that number from the beginning so that you don't start contracts with vendors that you really can't afford to work with. To give yourself a little wiggle room, add at least five percent to your final budget number for unforeseen costs (and there will be at least a few!).
It's also a good idea to consider your total wedding budget amount in light of other important financial goals you and your partner may have. Are you planning to buy a house in the next few years or are there plans for one or both of you to continue your education? Perhaps you want to begin a family right away or start a new business. Whatever your goals, keep in mind where your wedding fits in your overall, long-term financial plans.
Keep track of expenses.
Unless you have a special knack for keeping accounts in your head, create a spreadsheet once you have your budget number and use it to record every penny you spend or amount you contract for with a vendor. Set it up so that every entry in the expenditures column is subtracted from your total budget and you'll always know where things stand and where you may need to make adjustments to your plans as you go along. You could use a Google doc and make it shareable and/or editable so your partner and anyone else in charge of spending can stay informed or help keep it up to date.
Ways to save.
The average cost of weddings today comes in at more than $28,000, according to a survey conducted by TheKnot.com. For couples whose budgets are much less or those who would rather invest their money or save it for a rainy day, however, there is good news: Ideas for creative, money-saving ways to take care of everything on your list is nearly endless. Here are just a few:
Have your ceremony and reception at a time of day when guests won't expect a full meal. You can get by with light hors d'oeuvres, cake, and beverages for a mid-morning or mid-afternoon event.
Still want to serve dinner or lunch? If you're thinking of having an informal wedding, look into having a food truck take care of catering.
Alcoholic beverages and an open bar can really break the budget. Consider a combination "stock the bar"/engagement party and ask guests to contribute their favorites to be served at your reception.
If your schedule is flexible, consider having your wedding in a month that's not the high season for weddings in your area. You'll have more choices among vendors and their prices may not be as high in the off-season. If it works for you, a day other than Saturday can save you money as well.
DIY decor is all the rage right now, so don't hesitate to take advantage of it. Hand-picked flowers, handmade centerpieces, inexpensive white string lights, paper lanterns, and candles in mason jars are just a few ideas. (If you're not already set up on Pinterest, get to it! Affordable wedding decor ideas abound there, plus you can use it to organize your own plans.)
There are plenty of ways to save on flowers: Create your own centerpieces, for example, or limit your choice to in-season and/or local flowers to avoid the higher cost of out-of-season or exotic flowers. Also, consider using more greenery in arrangements.
Instead of professionally printed programs, set up a blackboard in an attractive frame to display ceremony details.
If a band (or even a DJ) is not in the budget, you can have streaming music or prepare your own playlist in advance and go with an iPod and good speakers.
Consider trades instead of gifts. Do you have a florist, photographer, baker, hairstylist, seamstress, or other person with needed skills among your family and friends? Ask them if they'll consider providing their services instead of buying you a gift.
Speaking of gifts, following the tradition of giving gifts to bridesmaids, groomsmen, and the parents of the bride and groom can add up to a considerable amount, particularly for a large wedding party. This is one category, however, where some creativity can help you save money. A quick Google search of "inexpensive bridal party gifts" will give you more ideas for affordable gifts than you'll need.
Don't dismiss the suggestion too quickly to buy used items! Think about it: Weddings are a one-time event, so anything that's resold will probably be in like-new condition. All kinds of accessories and decor are offered on marketplaces such as Craigslist and eBay, and usually at a deeply discounted price.
Wouldn't it be great to save 50, 60 or even 70 percent on your wedding dress? You can do it! Check out sample or designer sales, and scour eBay and Craigslist for never-worn dresses being sold by brides who've changed their minds about the dress they bought or who have canceled or postponed their wedding plans.
Not everyone is comfortable negotiating with vendors, but many of them may be willing to work with you if you ask. (Some even expect a bit of haggling.) A florist or photographer may even offer up some ideas on ways to save on their services if you have some flexibility.
It may seem obvious, but not everyone thinks of this at first: Limit your guest list. Remember that your wedding is not the time to pay back every social invitation you've ever had or put yourself under serious stress trying to please everyone else. This is your day and one of the few times in life when it should be all about you.
Watch out for hidden costs.
There are so many aspects to consider when planning a wedding that it's easy to skim over some of the details. Taken together, however, details that have a price attached can take a chunk out of your budget. It's smart to read all of the fine print on any contracts you sign, since some vendors will list any extra fees there.
Here are few items to consider adding to your budget as you plan:
Hair stylists, manicurists, makeup artists, spa time or other beauty treatments
Gratuities for everyone from the band or DJ to the officiant and the limo driver
Mailing costs for bulky or odd-sized invitations
Wedding dress alterations
Undergarments, shoes, and jewelry
Overtime fees for the photographer, band or DJ if you keep them working beyond contracted timeframes
Breakdown and cleanup costs, which may be added on to rental fees for venues that aren't full service
The marriage license
Delivery charges
Sales taxes
Choose an all-in-one affordable wedding venue.
You can save money, time, and hassle by having your wedding ceremony and reception at the same location. It's easier for guests and easier on you, since you won't have two separate locations to worry about. Look for a venue that offers flexible configurations, ample parking, and that's accessible for guests of all abilities.
At the Thrasher-Horne Center, we make your wedding venue decision simple. Pricing for any of our six suites includes the setup and breakdown of your custom furniture arrangement and our suites offer independently controlled lighting and sound. We have an experienced list of recommended caterers (or you can use your own), free parking and easy access for guests, an event attendant to assist you, and much more.
For information on the Thrasher-Horne Center's affordable wedding venue and services, give us a call at 904-276-6815, and visit our wedding page for more details, plus a helpful wedding countdown checklist. Be sure to ask about how we can accommodate your rehearsal dinner, bridesmaid brunch, or other events that surround your special day.